Sowing the Seeds: Head Gardener's Conference 2023
October 9th, 2023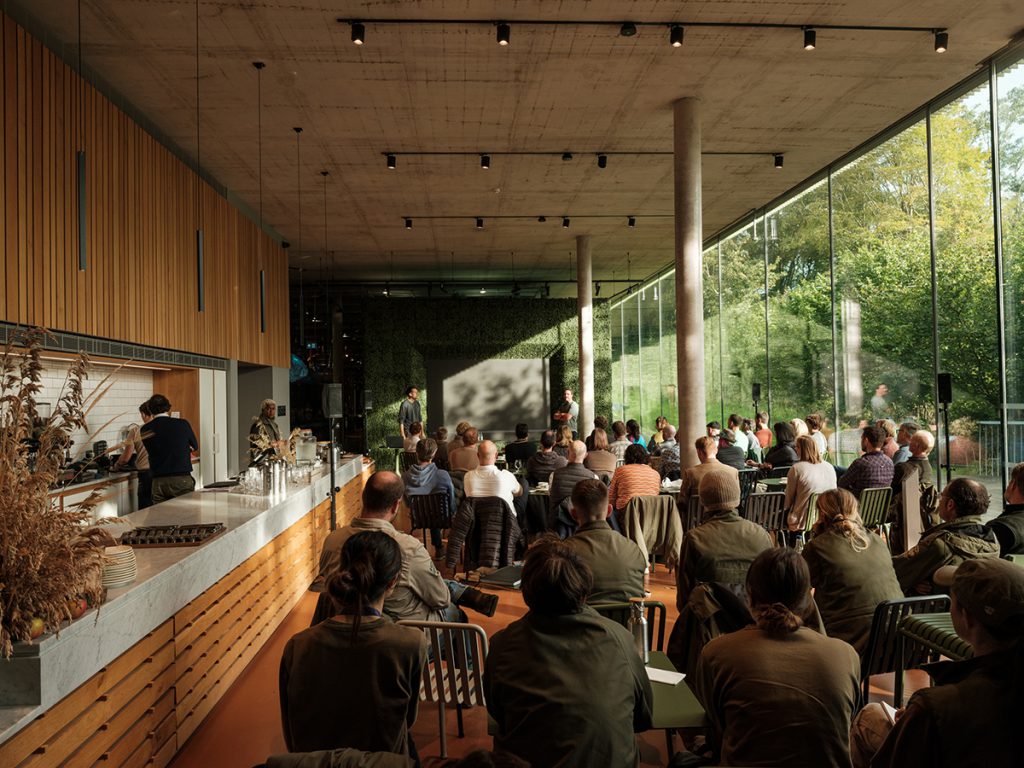 Last week, we hosted our second symposium for Head Gardeners from around the UK to share knowledge and dig into timely discussions on the future of gardening. An inspirational two days focusing on the theme of sustainability, topics of conversation ranged from bugs to biocontrol, with a very special introduction from acting royalty…
Over 70 Head Gardeners from all over the UK downed tools last week to join us in sharing ideas, skills and learn from each other at The Story of Gardening. The theme for this year's conference: sustainability. More than the latest buzz word, sustainability means preserving our resources and environment for the future and the next generation. The Head Gardeners at our conference are collectively responsible for the stewardship of over 1 million acres of parkland, woodland, farmland and gardens, which means working together has an opportunity to make a huge impact on our natural environment. Not just through the practices undertaken to promote biodiversity, preservation and conservation but through access and education. 
In a timely stroke of luck, we noticed keen gardeners turned education campaigners Jim Carter and Imelda Staunton gaining momentum on their calls to get gardening added to the national curriculum, and so invited them to tell our captive audience about their campaign – and officially open the conference in the process. 
Less screen time, more green time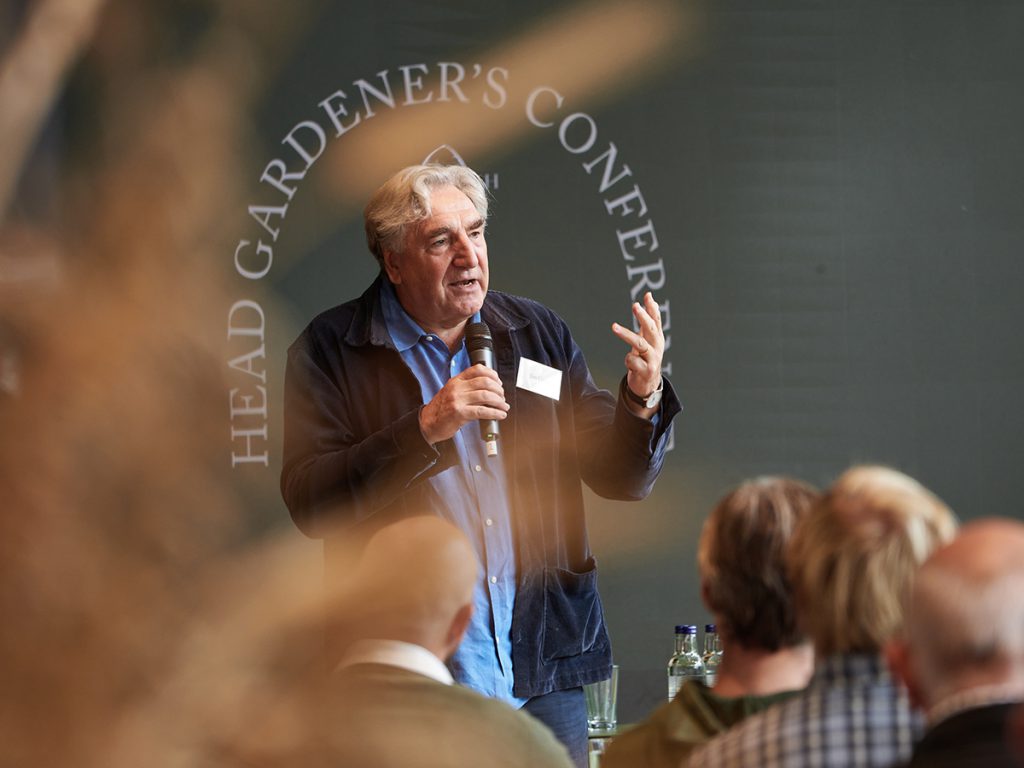 Jim Carter doesn't need a microphone. Best known as Mr Carson in period drama, Downton Abbey, he admits that Lockdown was a pleasure for him and his wife Imelda (currently starring as Queen Elizabeth II in The Crown), thanks to spending a lot of time in their garden at home with licence to enjoy it. "For gardeners, it was sort of a golden time, but we were acutely aware of how lucky we were and how difficult it was for people who didn't have access to the outside," he says, in his distinctive baritone.
"After Lockdown, the world tilted on its axis and it shone a spotlight on gardening and showed us all how essential it is to have access to the outside and the earth; to growing, to nurturing. Children got locked into their screens; they became receivers of information rather than participants. We've got to get kids into the garden – it teaches them art, botany and design. It's psychologically and physically healthy; it's a group activity," Jim explains, emphatically, before telling the room about a phrase he heard that really resonates: "less screen time, more green time". 
As patrons of gardening charity, Greenfingers, who make brilliant gardens for children's hospices around the country with the help of top designers, Jim and Imelda were recently asked to do a speech at the Houses of Parliament. "I was supposed to talk about Greenfingers, which I did," Jim says, with a wry smile, "but then I went off piste, and talked about this idea of getting gardening onto the school curriculum." 
The idea caught its moment, and it's been growing since. "The UK is famous for gardening. The government should get behind this idea," he adds. "I throw these ideas out to you as an amateur, like I chuck out opium poppy seeds – you never know where they're going to spring up or find the right place to grow. Hopefully we can get this on there, because when you think about it being on the curriculum, gardening is a lot more fun than algebra."
Challenge set, and seeds of an idea sown, Imelda strikes her own deal before opening the conference: "You can ask us anything about Harry Potter, Downton Abbey or The Crown if we can ask you about leaf mould and lemon trees." 
An Eye on the Future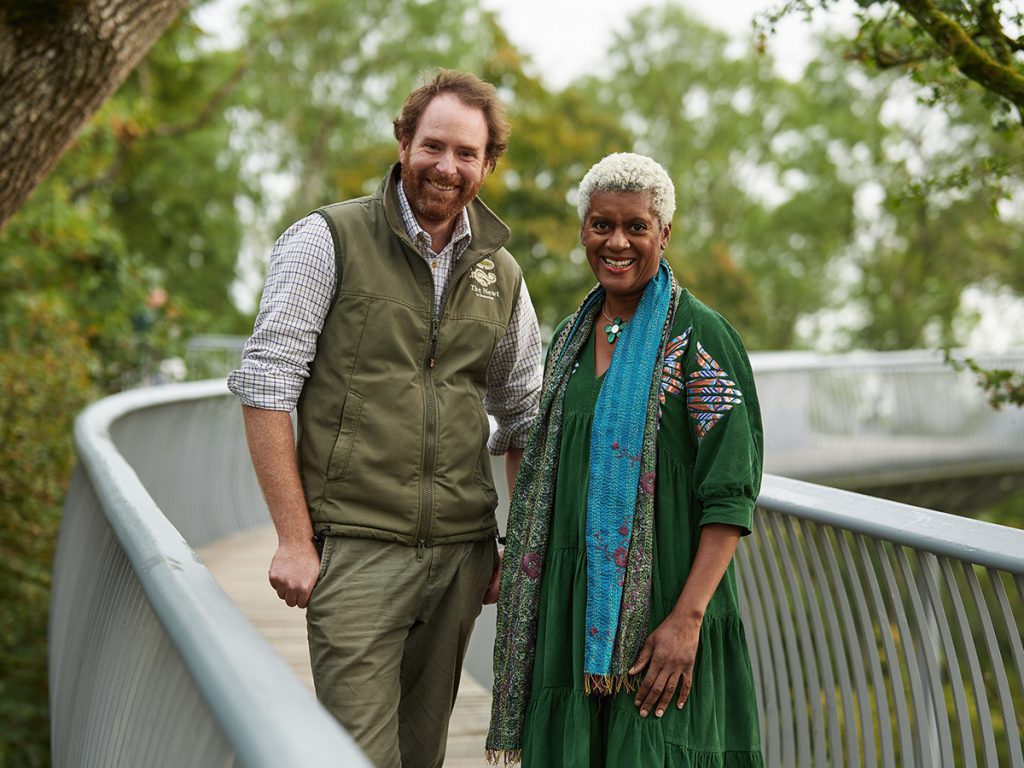 Our two days were made up of insightful talks, lively discussion panels and fantastic workshops from our own garden team, involving the likes of bee safaris, woodland tours and soil and compost management around our Somerset estate. 
Panel discussions – ably hosted and moderated by garden designer, writer and personality Arit Anderson – ignited important conversations around positive language in communications; bringing visitors along for the journey at any national garden; and being more transparent about projects that don't go well – after all, death in the garden is a natural process. The topic of using chemicals to maintain appearances in gardens was also raised, with thoughts ranging from needing to be more tolerant of weeds to finding a balance in maintaining cultural heritage, while also seeking out alternative methods, as nature lovers, to reduce the use of chemicals in gardens.
Sitting in on the talks, here's a snapshot of the ground covered:
Day One
Can gardens really be rewilded, and how do we manage visitor expectations vs managing the realities of a garden?  
Charlie Harpur gave us an overview of the trailblazing rewilding project at Knepp in Sussex, and how the principles of thinking about your garden as an ecosystem, and expanding opportunities for wildlife, can be applied to gardens of every scale. At Knepp, the only end goal is maximum biodiversity, though we can't help but notice that it's extraordinarily beautiful too.
"There are 32 million gardens in the UK, the area of which is about five times the area of designated national nature reserves, so we have the power to create this interconnected web of life that can play its part in reversing biodiversity loss. That is monumentally exciting." – Charlie Harpur, Head Gardener, the Knepp Castle Estate.
Dave Goulson shared a fascinating insight into the world of insects, highlighting the imperative role they play in the world and what we can do in our own gardens to create wildlife friendly habitats to slow, or start to reverse, their decline.   
"We need to reconnect with nature and stop trying to kill everything all the time. We live on this rock hurtling through space with a little cluster of creatures living on its surface, of which we are just one, and we should cherish all the others and look after them better than we have – what better way to start doing that than looking after all the insects that live in our gardens."
– Dave Goulson, Professor of Biology, The University of Sussex.
Manoj Malde honed in on the subject of diversity in horticulture; calling for more inclusion for people from all backgrounds and asking our audience to reach out and make new connections outside of the industry to make it richer, more interesting and as strong as possible for the future. Manoj left us with this thought-provoking quote from Tazim Essani. 
"Diversity is being invited to the party. Inclusion is being asked to dance. Belonging is being asked to choose the music. What are you going to be doing to ensure that everyone is invited, that they're all able to dance and that the choice of music is wide?" – Tazim Essani, RHS Council Member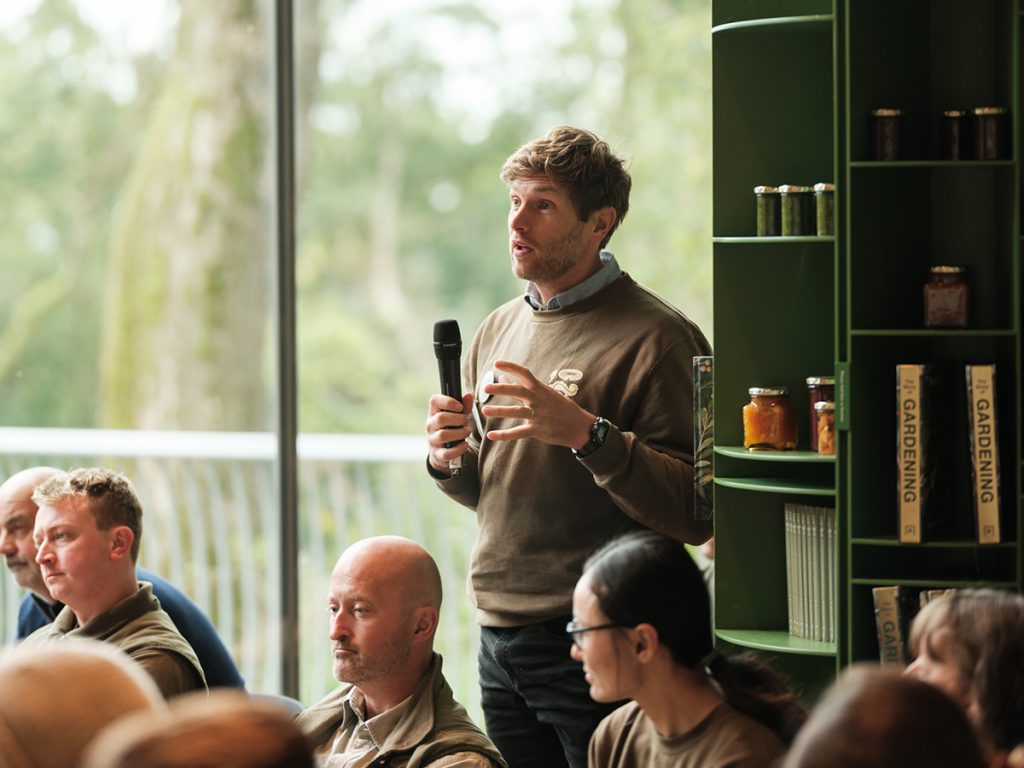 Day Two
What makes a diverse and future proof garden, and how can we combine the old and new worlds of horticulture for the future?
Jon Davies and Steve Williams from Wild City Studios opened the debate on 'Traditionalists vs Fashionistas' when it comes to rewilding, and shared their unlikely journey into horticulture as inner city Londoners. In their view, it's possible to find a balance between celebrating a site's heritage while also pushing boundaries. As Steve phrased it, "instead of drawing battle lines, it's about providing another angle." 
Fergus Garrett, Head Gardener of Great Dixter and CEO of the Great Dixter Charitable Trust, shared a detailed description of how he has created a garden of brilliant biodiversity through experimentation, community building and a dynamic connection with nature in every decision.
He also addressed the topic of nature vs nurture, noting their (naturalistic) formal gardens had even more biodiversity than the wild meadows:
"You don't need to rewild your garden to create a haven for wildlife".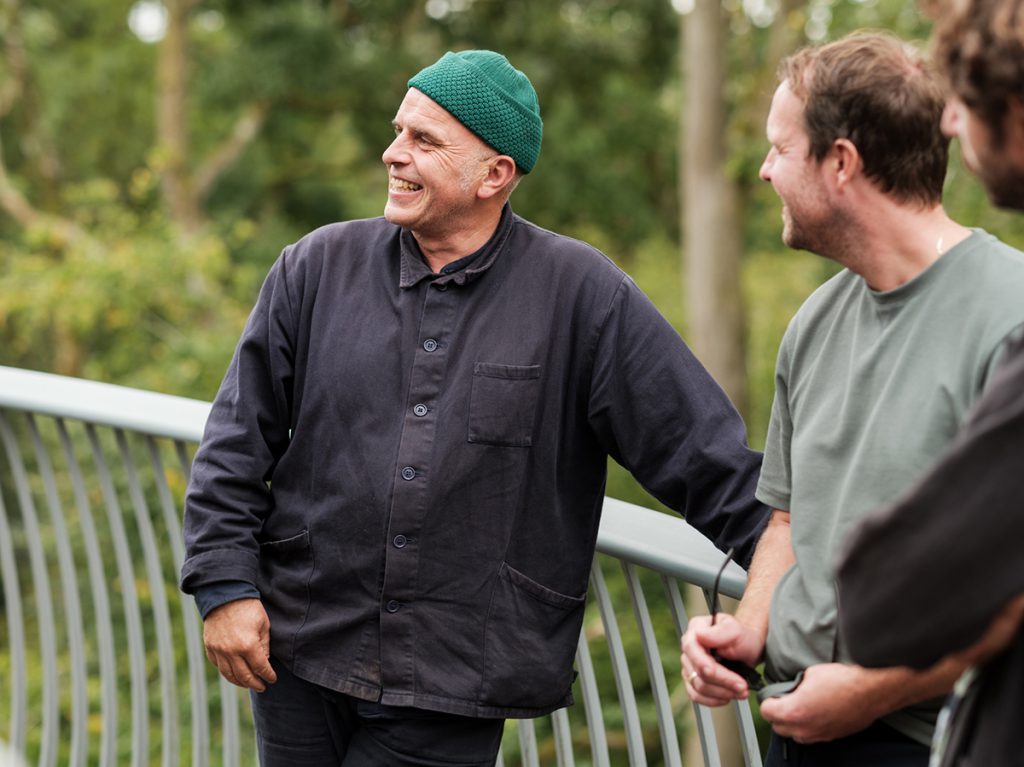 Tom Massey and our Stephen Herrington then joined Fergus for a panel talk on what makes a diverse garden and how we can future proof for the next generations.
For Stephen, it's about plants that can withstand and respond to climate change. Fergus referred to a garden's visitors and activities as well as planting. Tom felt that "a diverse garden is one that's alive, rich and full of interwoven tapestries of life, from plants to people. Diversity is what gardens are all about."
In the final panel, Alasdair Moore from The Lost Gardens of Heligan shared his view that heritage gardens are part of our future – if we allow them to be. A fitting remark to end on:
"It's about hanging on to the values of heritage while letting go of the clutter and chains that hold you back"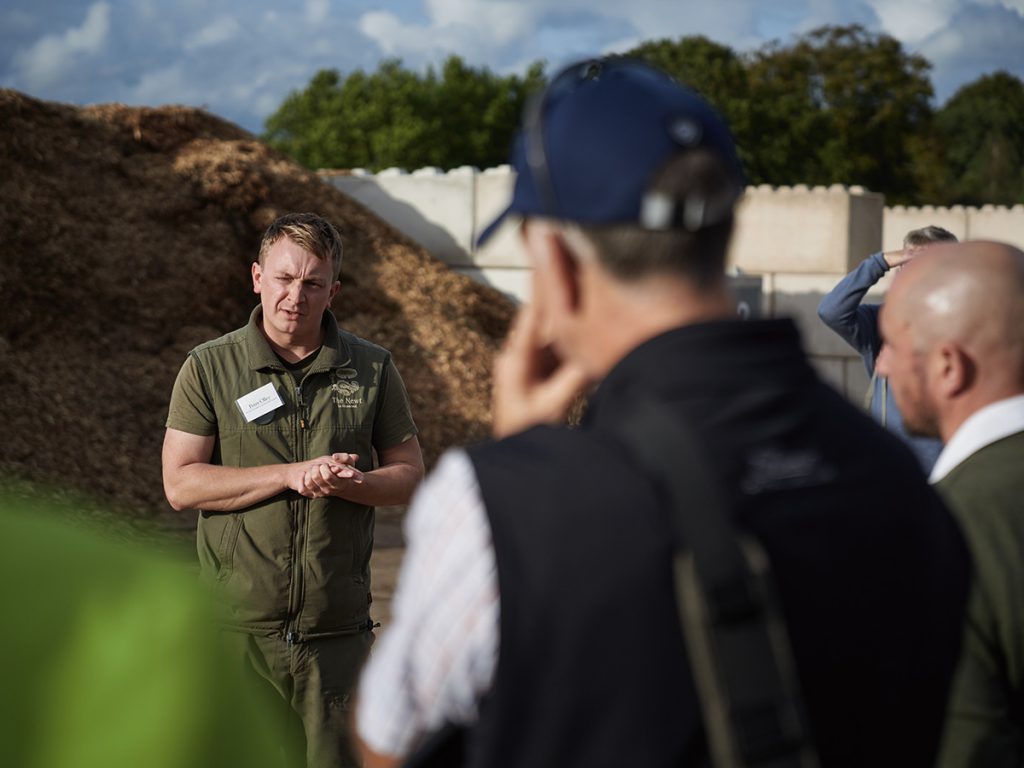 Food for thought – key facts from the talks:
Gardens cover around 400,000 hectares of Britain. Just imagine if most of them, or ideally all of them, were managed for nature.
¾ of all crops in the world require pollination to do well. We need to look after our insects.
There are 6,000 species of insect that pollinate in the UK, let's look after all of them, not just the bees.
8% of UK gardens are plastic, decimating biodiversity.
France banned urban pesticides in 2018. We can manage without them.
Mow less and enjoy the wildlife.
Not all gardening is good for the environment. Be mindful of the products you're buying and what you're planting.
We all have failures in the garden. It doesn't make you a bad gardener.
Let's try and change the language around the likes of 'pests' and 'nuke' and 'no-dig' to something more positive.
In 2019 the industry was worth £28.8 billion. That value is projected to be £41 billion by 2030. Let's make it more representative of our diverse population.
An open forum to share ideas, skills, knowledge and learn from each other without judgement; it was an inspiring two days on the estate. The hope is that some of these ideas will germinate and grow, in far-reaching corners of the UK, and make a real difference in the world of gardening. We can't wait to hear all about it next year.