Peak Produce: Meet David Rowley, Head of Productive Growing
September 11th, 2023
September is the most bountiful month at The Newt in Somerset. The last days of summer are here and it's almost time to come together for our annual celebration of Harvest; a chance for us to reconnect with the estate's long farming heritage and showcase the work of our gardeners after an incredible glut this season.
We caught up with David Rowley, our Head of Productive Growing, to hear more about the season's spoils and his newest projects over at Avalon Farm.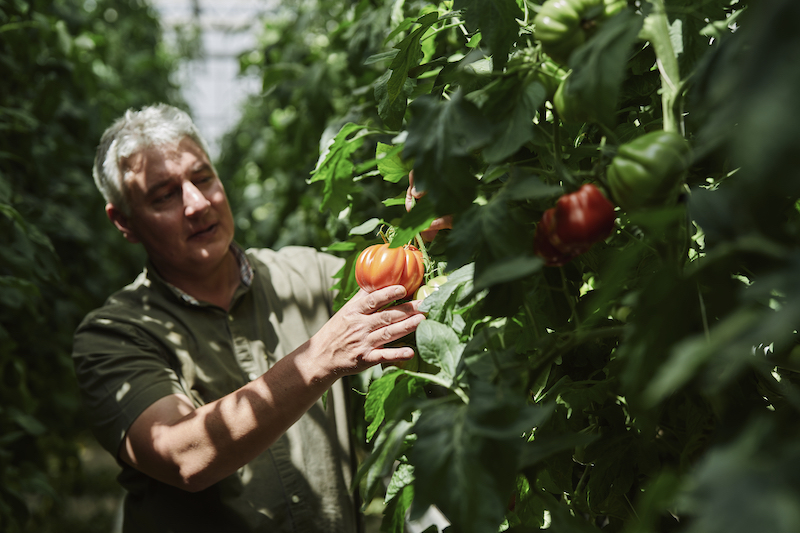 "It's a great time for produce," says David. "We've had an entire season's worth of growing time before this large abundance of crops, which we have to harvest before the first frosts."
At this time of year, the edible and market gardens are bursting with basil, beetroots, Swiss chard, courgettes, vibrant patty pan squash and David's favourite pinstripe aubergine, ripe for the picking for shops and menus. Combining David's expertise with hydroponic farming practices, our new Glasshouse is bursting with tomatoes. It allows the team to grow nutritious fruits and vegetables for nine months of the year, in a fully customisable climate powered by solar and biomass. 
"Our job at Avalon Farm is turning sunshine into sustenance," he explains, "and something that people want to eat through our restaurants and various outlets – including the online store, even the staff canteen. It's an amazing closed loop."
David's passionate about developing his team and teaching as many people as possible to produce pesticide-free crops in order to build food trust and skills:
"Eventually I'm going to be too old to grow my own vegetables, so I want the younger generations to be able to grow them for me. I want to help educate my team and as many people as possible how to produce food that's chemically clean, as in free of pesticides, and good enough that you want to feed it to your children, your parents, family members, friends."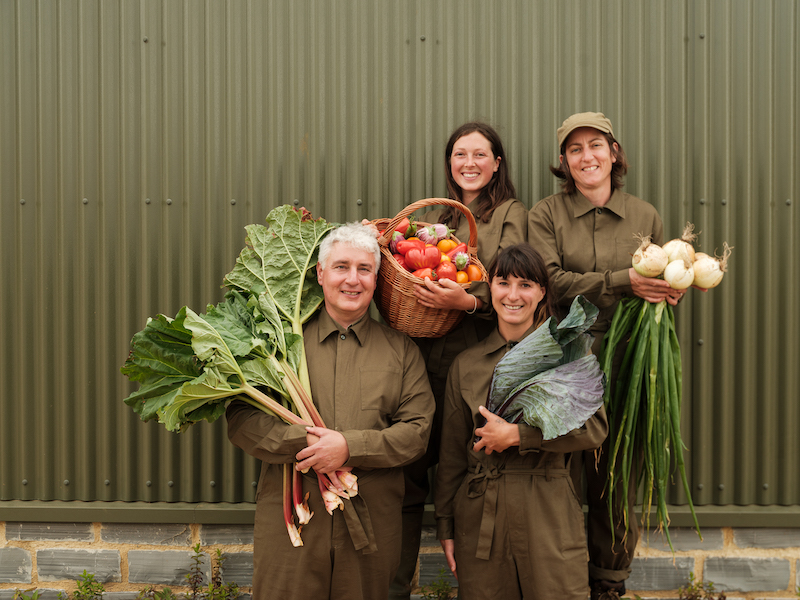 The team aren't afraid to experiment with unique varietals and growing techniques to ensure a technicolour of produce. It's an ethos that's shared across our food production. Using the land and celebrating the seasons, but doing things a little differently, letting our team of growers, farmers, bakers, butchers, chefs and cheesemakers be creative with food that doesn't just taste delicious, but ignites the imagination.
Q&A
Q. What's your favourite part of the job?
Team development. When a team member learns how to use a seeder for example – and you can see that penny drop moment from not understanding how to use that tool and now all of a sudden, they've developed and got it and might produce anything that might come out of that seeder, time after time. Those gems of development in people.
I love sharing the knowledge. When you grow it yourself, that's where the food trust grows. You know the process of growing that food and can look them in the eye at the farmer's market and know intrinsically whether that food is good or not. And you can ask. That's exactly the route The Newt would like to see the productive gardens develop into, not only producing fantastic pesticide free crops but also to develop the people that are doing the work, so that they're enjoying their job and learning at the same time. 
Q. How do you choose what to grow?
A combination of my input, our Head of Food, Alan, and what has worked before now. Not quite a hive mind, but necessary learnings about what does particularly well in this location. We have uchiki kuri thin skinned winter squash (eat soon after picking rather than requiring curing for the skin to develop). Japanese turnips do exceptionally well in the spring – white radish-sweet, crunchy, lovely, right from the ground. Trial and error. Alan has put together a wonderful programme which highlights the different seasons, what we can produce here and what we're bringing in from Babylonstoren harvests, turning them into all sorts of delicious things.
Q. What will you be harvesting in September?
Fantastic tomatoes, basil, beets, amazing salads (almost all year round now, they're so popular). Red pointed cabbages – great for coleslaw, lovely, sweet to eat. Bunches of Swiss Chard. Courgettes and patty pans squash. Fennel, Mustard greens.
Q. Any favourites or anything especially unusual to look out for?
Pinstripe aubergine is a mini aubergine around 15-20cm. Chefs loving working with them as they can treat them simply, scorch under the grill and they're almost ready to serve. Patty pan squashes are coming along nicely. There's huge potential to do a lovely job producing bunched and multicoloured carrots into the autumn and winter. It's one of my favourite crops to produce but actually it's been challenging for the team so far to go through all of the steps required to get a really nice healthy crop of carrots. So one of the things I'm working on is developing the systems and knowledge base for the team so that we can altogether produce the best possible carrots. 
Q. Any future plans you can share?
Exciting levels of abundance. So far we've been meeting the needs of the onsite restaurants and online shop quite nicely. Now we're planning to take it to the next level of production, so that we have an abundance of produce all year round. For example we could grow storage carrots and storage beets, so that we can provide fresh carrots until the beginning of December, and storage carrots and beets over the winter from our own harvests. 
JOIN US THIS HARVEST SEASON
In the spirit of gathering together to celebrate this month of plenty, members are invited to join us over the weekend of 23 – 24 September for all the excitement of our Deep South Somerset Harvest Weekend and Harvest Supper. We're throwing a proper knees-up in the gardens with live music and BBQ fare fresh from the veg patch, butchery and bakery, infused with the flavours of the Deep South. 
It promises to be a lively occasion to toast the arrival of Autumn, and perhaps inspire you to get growing for next year…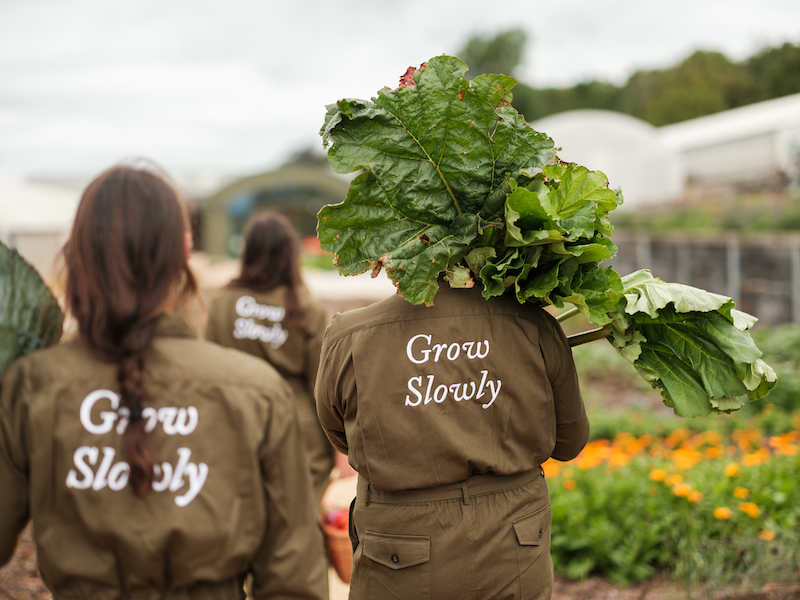 From estate patty pans to courgettes and our tomato abundance box, you can shop the best of the season's spoils at our Farm Shop, or online with free delivery over £40.
Join us over the weekend of 23 – 24 September for Kitchen Garden and Orchard tours, dancing around the hay bales to live music and full-on feasting at our Deep South Somerset BBQ. Included in Newt membership.

PLAN YOUR VISIT
BOOK HARVEST SUPPER