A New Culinary Chapter: Meet Matt Heeley, Head Chef at The Botanical Rooms
August 28th, 2023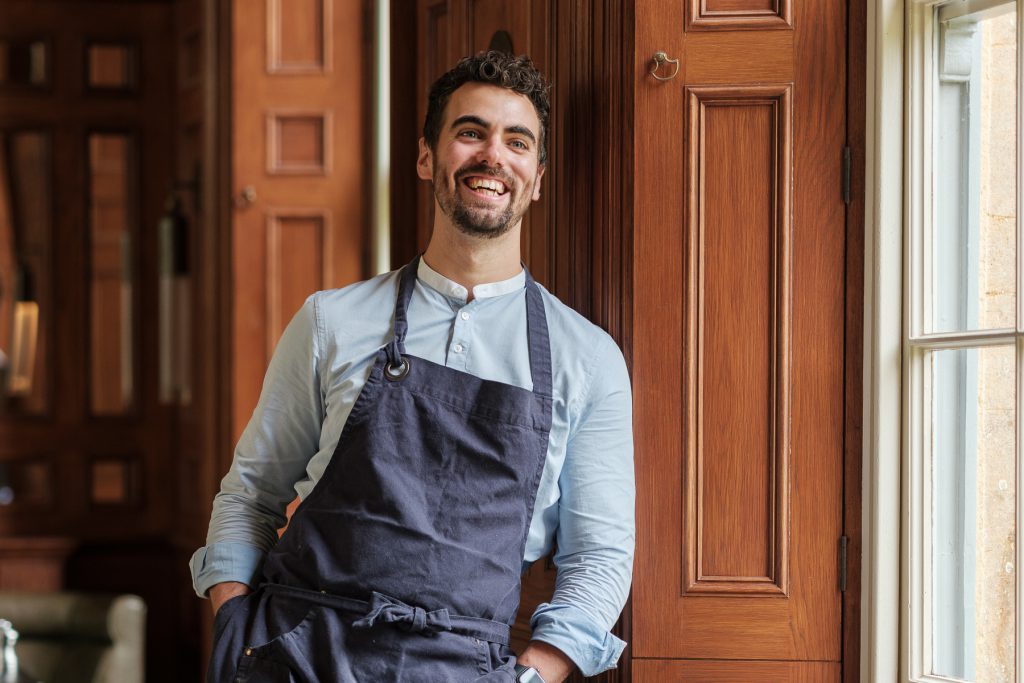 With a new season approaching, we thought now was a good time to introduce our new Head Chef at The Botanical Rooms, Matt Heeley. He's had a few weeks to settle in and make the menus his own, inspired by the glut of ripe, seasonal treasures growing in the gardens at this abundant time of year.
As the weather begins to cool, so the menus evolve with a new set of ingredients artfully transformed into tantalising dishes singing of their surroundings cooked by Matt and his team. It's food cooked simply and presented beautifully, with heart and soul – and a little added flair.
We caught up with Matt, to hear more about his culinary journey to date and get the inside track on what's cooking…
Born and bred in Yorkshire, Matt's big break came at 21, when he moved to London to work with Angela Hartnett at the Michelin-starred Murano;
"I felt cooking was something where I could be myself and have a bit of flair and creativity," explains Matt. "I built up such a great relationship working with Angela, Pip and Diego who was the Head Chef at the time. She was always pushing me and trying to get the best out of me. Angela really helped me grow and build a network of contacts. She's an idol."
New found relationships made in Mayfair brought many a new opportunity. Matt went on to work at two Michelin-starred, The Square, had a season in the French Alps for Angela, opened The Oystermen in Covent Garden with a friend and went on to be Junior Sous at the Michelin-starred The Angler in South Place Hotel at Moorgate. Fast forward a few years and an old colleague lured him out of London with the opening of 28 Market Place in Somerton. He was there for the best part of three-and-a-half years, leaving as Head Chef when it closed in April this year and joined us at The Newt in May.
"What I found with coming to The Newt is that it's focused on local British produce and cuisine, so I feel like I've gone back to my roots," says Matt. "After having a big career across a broad range of cuisines, it's nice to bring it back home and have it all so close and on your doorstep.
"Our menu is super seasonal, based on and inspired by what is growing in the gardens. We're taking local produce to a whole new level, growing and producing as much as we can in the grounds of The Newt.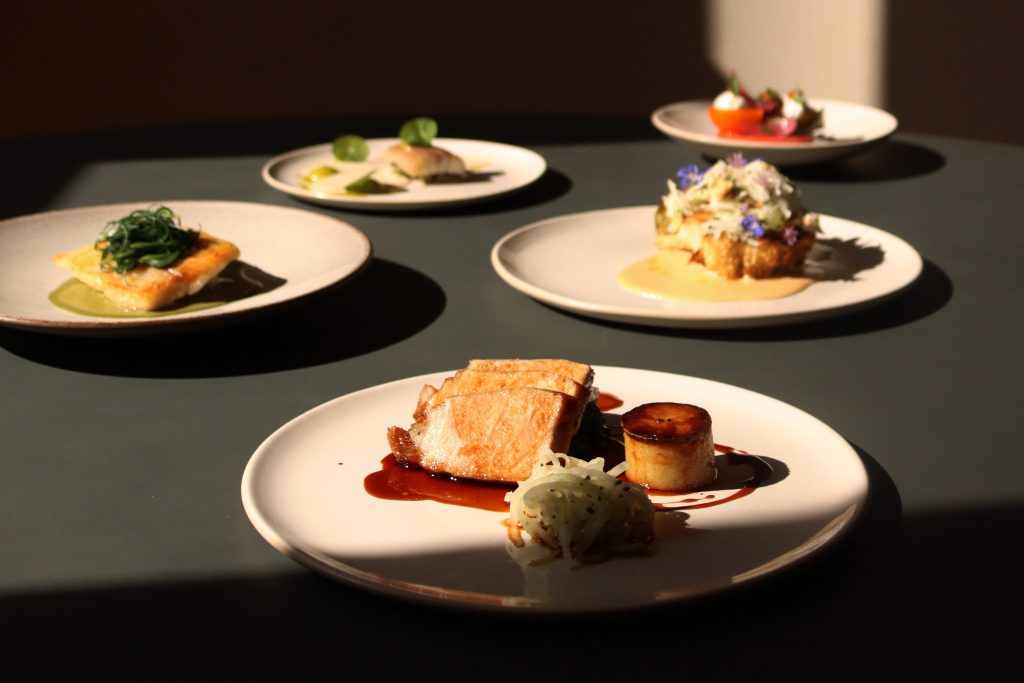 "We work closely with Ellie, who looks after our Stable Yard Kitchen garden, and plan the next year's crop based on what we would like to use in the kitchen. This gives Ellie and the chefs a chance to grow new and unusual items that you wouldn't normally have access to in restaurants – it's so exciting. I've asked for artichokes, baby fennel, green garlic, bronze fennel and borage flowers to name a few. They're all ingredients that I love to use and are always popular among the chefs in the kitchen."
"We regularly walk around the estate to see how we can create dishes based on our own ingredients. The honey parfait on the dessert menu is made with Head Beekeeper, Paula's honey and roasted English apricots which we finish with cherry blossom vinegar – using cherry blossom that we pickled last year.
"The lamb dish is one of my favourites and uses ingredients such as the pinstripe aubergines and tomatoes grown by David in the hydroponic greenhouse at Avalon. The lamb is reared on the estate grounds and prepared in our new state-of-the-art butchery facility.
"The British White beef is extraordinary, too. It's a breed I haven't really used in the past so it's great to have this so readily available. We try to use as many different parts of the animal across our menus and snacks to help with honouring these noble creatures and reduce waste: from beef fillet, sirloin and ribeye on the à la carte menu to trim and bones for stocks and sauces and snacks of braised beef shin served with pickled walnut ketchup."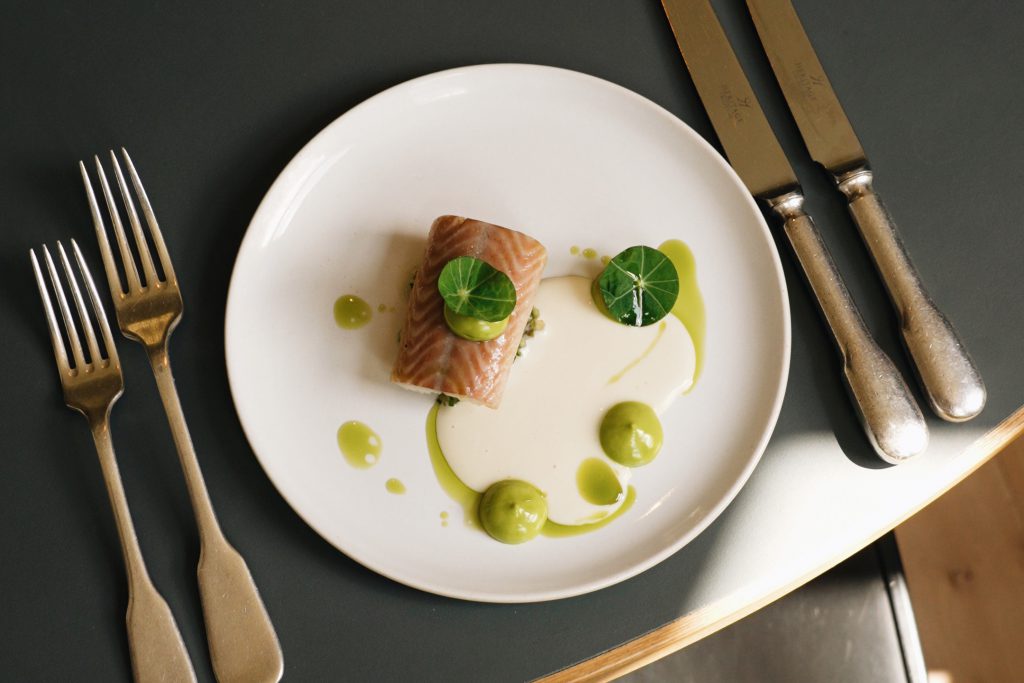 Matt describes his cooking style as "honest". "I don't like faffing around too much and let the produce do the talking," he says. "There are a lot of chefs out there making foams and weird and wonderful things – and I'm sure it tastes amazing and definitely has its place in the world – but for me it's just about good honest food done well."
There's also a lot to look forward to on the new menu as we head into autumn. "I'm working on a duck dish because we've got these beautiful Kalibos cabbages growing down at Avalon Farm," says Matt. "It's similar to Hispi cabbage and something that I'd never seen before. We're pickling it so it still has a bit of bite and pairing it with roasted plums and duck breast."
"We've got a new beef dish coming as we are entering mushroom season, so I'm keeping the summer vibe before gently moving into early autumn dishes. For desserts, we've got lots of lovely Babylonstoren clementines, so as the cherries come to an end, we'll get a citrus dessert on. It's great to keep the menu fresh for us and the guests."
Curious to see what's cooking at The Botanical Rooms? Enjoy a two-or-three course set lunch, or three-course à la carte dinner to experience Matt's simple yet playful approach, allowing the bounty of the estate and local ingredients to truly shine.
SUMMER LUNCH MENU (changes regularly)
SUMMER DINNER MENU (changes regularly)