September Harvest: Notes on the Season
September 5th, 2022
Our Head of Edible Gardens, Rose Szarowicz, shares more about this year's harvest on the estate – including how the warmer weather has impacted this year's crops, and how our chefs are bearing the fruits of the gardener's valiant efforts.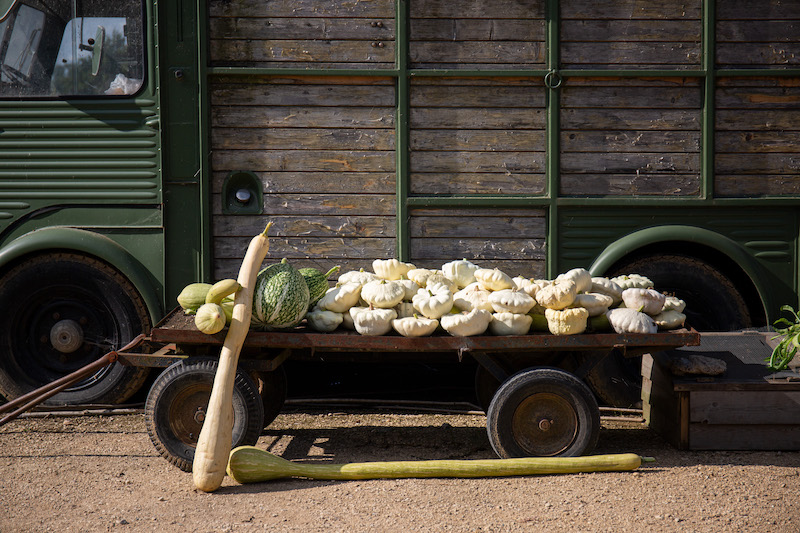 Garden growing hasn't been straightforward this year. The hot weather has been challenging as not all our growing areas are irrigated, and although we hand watered in the brassicas, around a third died due to the exceptionally hot weather. It also caused radish, fennel, coriander and parsley to bolt.
The dry conditions have been perfect for flea beetles to thrive, and birds, badgers and moles had to search further for food, with worms going deeper into the ground to stay cool. A badger ate one bed of corn just before harvest and flattened all of the plants, and we've certainly spotted more mole holes.
We've been growing patty pan squash alongside green courgettes, which featured in summer dishes in the Garden Café and Farmyard Kitchen. With its striking star shape and nutty flavour, you can eat the skin when harvested small. With much still to pick, here's a snapshot of the fruits of our labour this month.
Beetroots
We grow a range of three colours of beetroots to make a mixed bunch which we sell through our online shop: Golden (yellow), Chioggia (stripey white and pink) and the classic Pablo (purple) beetroot, which is a favourite among our chefs.
Ben Champkin, Head Chef of The Botanical Rooms is also a fan of the Cylindra variety, which is also deep purple in colour, grows oblong and has a smooth texture.
Chillies/Peppers
We grow chillies and peppers in polytunnels and a glasshouse next to the hotel. Last year we trialled several varieties for the chefs, so settled on their favourites: Padron peppers, tiny sweet Biquinho peppers and jalapenos. The latter are ready towards the end of September, usually harvested in one go to preserve, while the padrons produce abundantly from July to September.
Tomatoes
We've been growing Marmande beef tomatoes in our polytunnels as our Estate Head Chef Alan Stewart fell in love with them when he was running restaurants in Barcelona. It's a huge, fleshy, sweet tomato which is difficult to buy as its best picked ripe and plump which makes it very delicate to handle and transport.
We are also growing cherry tomatoes for mixed punnets on our online shop: Tomatoberry, Honeydew (yellow), Merrygold (orange), Matt's Wild Cherry (tiny red) and Indigo Rose (black and red).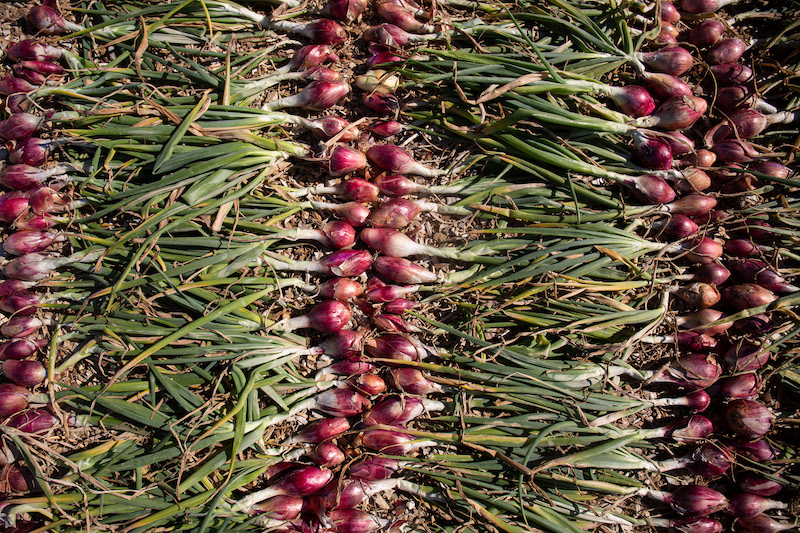 Tropea Onions
The chefs' favourite has been our Tropea onions this year – an oblong, sweet red Italian variety. We haven't yet been able to successfully grow Brittany onions (here hoping for next year!), so are using Ptjuski as a replacement for now. Tips on a postcard please!
Squash
Abundant in September, these trailing plants in the same family as courgettes and cucumbers, produce squash which can be carefully cured in bright, dry and airy conditions to store for the rest of the winter. We are growing three types of squash – regal Crown Prince, green and yellow-flecked Harlequin, and Spaghetti.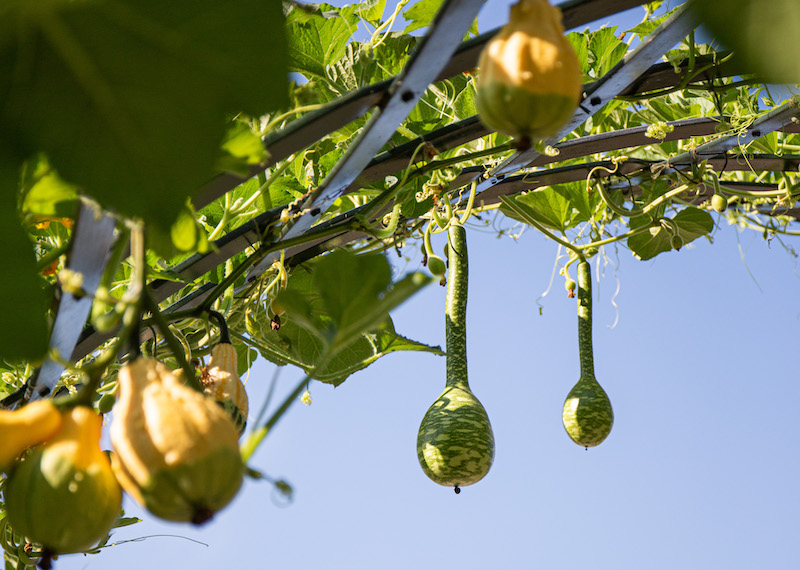 Hedgerow Fruit and Berries
We have mapped out our best foraging spots around the estate, so we know where and when nature's bounty will be ready to harvest. In September, we're busy picking blackberries, elderberries and sloes – which inspire our mixologists and chefs – and preparing for the abundance of apples and pears from trees dotted around the estate.
Mint
This year, we have ramped up our mint production, with two long dedicated beds between our tunnels. We are growing black peppermint, which has a very strong and sweet minty taste – closer to spearmint – which we use to make our own buffalo milk mint chocolate chip gelato. We also grow fresh garden mint for the kitchens and for our lamb and mint burgers in the Butchery.
Herbs
We grow herbs everywhere we can in the gardens and are establishing large permanent terraced beds for salads and herbs. We use herbs in mixed salads, produce dedicated fresh herb bunches to buy online from our shop for the likes of fruit salad, stock making and BBQ marinades. We have also just launched a gin botanical mix to jazz up your G&T.

Nasturtiums
One of the most plentiful plants, they thrive almost anywhere and make a great companion plant as leaves and flowers attract blackfly and aphids deterring them off your beloved vegetables. We use them in salads for their peppery taste and the chefs make a spicy oil to accompany their dishes.