Recipe: Rhubarb Cobbler
February 14th, 2022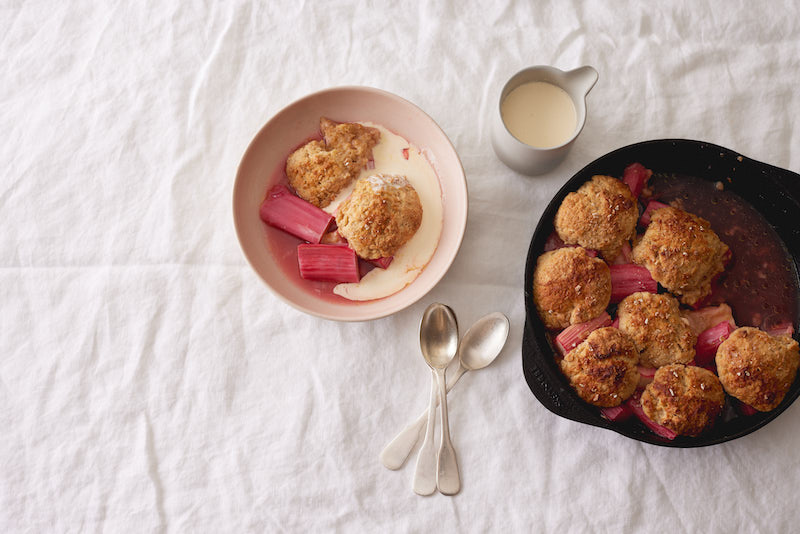 Our chefs and bakers have been having fun with the prettiest seasonal produce – forced rhubarb, largely from the 'Rhubarb Triangle' of West Yorkshire.
Estate Head Chef Alan Stewart shares his recipe for a warming pud for those cold February nights, perfect to follow a Sunday roast. Served with a large spoonful of buffalo milk yoghurt, milk gelato or west country clotted cream.
Rhubarb & Red Love Spelt Cobbler (Serves 6)
INGREDIENTS:
For the rhubarb base:
800g rhubarb
150g caster sugar
2tbsp cornflour
100ml Red Love apple juice
5g piece fresh ginger
For the cobbler topping :
1 egg
100ml milk
140g cold butter, cubed
100g spelt flour (we love Sharpham Park)
150g self-raising flour
50g spelt porridge flakes
1tsp baking powder
1tbsp honey
Zest of 1 orange
METHOD:
Pre heat the oven to 170ºc.
Wash and cut your rhubarb into 2cm pieces
Grate the ginger into the rhubarb
Add half the sugar, cornflour and apple juice and mix together
Place this in the bottom of a 20cm baking dish.
In a large mixing bowl, combine the spelt flour, self-raising flour, 40g of porridge flakes and orange zest
Add cubed butter and rub together until the mixture forms a breadcrumb texture
Add the egg and milk in a well in the centre of your breadcrumb mixture
Bring together to make a dough
Roll the dough into 4-5cm balls and arrange on top of the rhubarb mix
Drizzle with honey and sprinkle with remaining spelt porridge flakes.
Bake for 35-45 minutes until the top is golden brown, and the fruit underneath is bubbling.