10 Tasks for the Garden in January
January 10th, 2022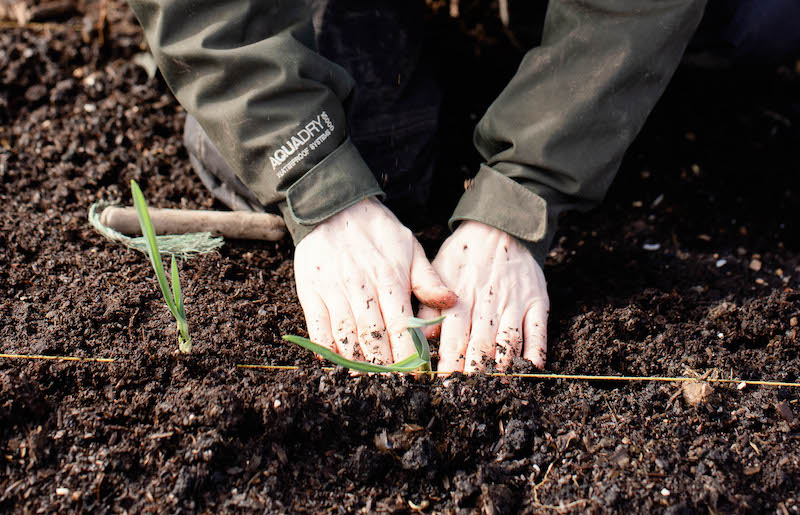 January is a month filled with optimism, new beginnings and, especially if you have a garden, important TLC. Things may look still and quiet out there, but this is the time to put the ground work in.
Our garden team start the month by packing away the Christmas decorations across the Estate, before beginning to organise, plan and prepare for the year ahead.
We're still harvesting a lot of produce from the Market Garden, which we continue to use across the estate in our three restaurants. All of the seed has now been ordered for the year, and the crop planning has been finalised – with gardeners and chefs working together to create a rich range of ingredients to serve the menus throughout the seasons.
One of our aims this year is to share more garden tips and tricks with you. So we're starting as we mean to go on with a monthly tick list of essential tasks we're carrying out in our garden, that you should also be doing in yours. Let's get gardening together.
Greenhouse/Nursery:
We're giving our greenhouses and nurseries a spring clean. Now is a good time to clear old compost and debris and make any improvements to the ventilation, shading and heating in preparation for the year ahead. Be sure to ventilate the greenhouse on sunny days to prevent humidity building up, and give the greenhouse roof a bit of a spruce to ensure you're letting lots of light in, especially as we prepare for spring.
We're sowing winter salads in our greenhouses, ready to be planted out and harvested within a few weeks. We're also taking root cuttings of perennials such as phlox and Japanese anemones, as well as propagating indoor plants from the Spa.
Now is a good time to sow seeds of hardy annuals, such as cornflowers and cerinthe in modular trays for early flowers.
It's a good idea to move potted strawberry plants under cover to encourage early fruiting and bring potted peaches into the greenhouse to avoid leaf curl disease. It's also time to move camellias into the greenhouse to encourage early flowering.
Keep the greenhouse frost-free by installing a thermostatically-controlled electric fan heater – we're installing new heating units in our propagation tunnels!
Edibles:
6. Ensure netting is in place over brassicas, such as kale, Brussels sprouts and cabbages, to protect from pigeons. Cover rhubarb plants with a bucket or terracotta pot to force an early crop of tender long stems.
7. We'll be clearing the vegetable beds and distributing our homegrown, nutrient-rich compost this month. Now is also a good time to begin reinstating pea supports if you plan to do so. If you're growing cabbages, we advise giving them a high-nitrogen feed to encourage leafy growth.
8. January is the month to take stock of what you have as well as what you want to grow. We're sorting squash for storage and clearing the remaining sprouts, but also printing photos for veg spec and holding meetings with our chef teams to plan this year's crop rotation, as well as what we intend to grow and use in the shop and restaurants this year.
9. A key focus is pruning our 300+ varieties of apple trees in the Parabola, but we're also pruning raspberries, blackcurrants, gooseberries and redcurrants. January is the time to remove any dead, damaged or congested branches – look out for more pruning tips from Andy 'Apples' Lewis, later this month.
General:
10. Cardboard boxes from Christmas gifts are great for the compost bin – tear up and add to your compost as brown matter, or flatten out and spread on soil to help suppress weeds and warm the ground for early sowing.