Garden Café Recipe: Bruton Mess
June 12th, 2023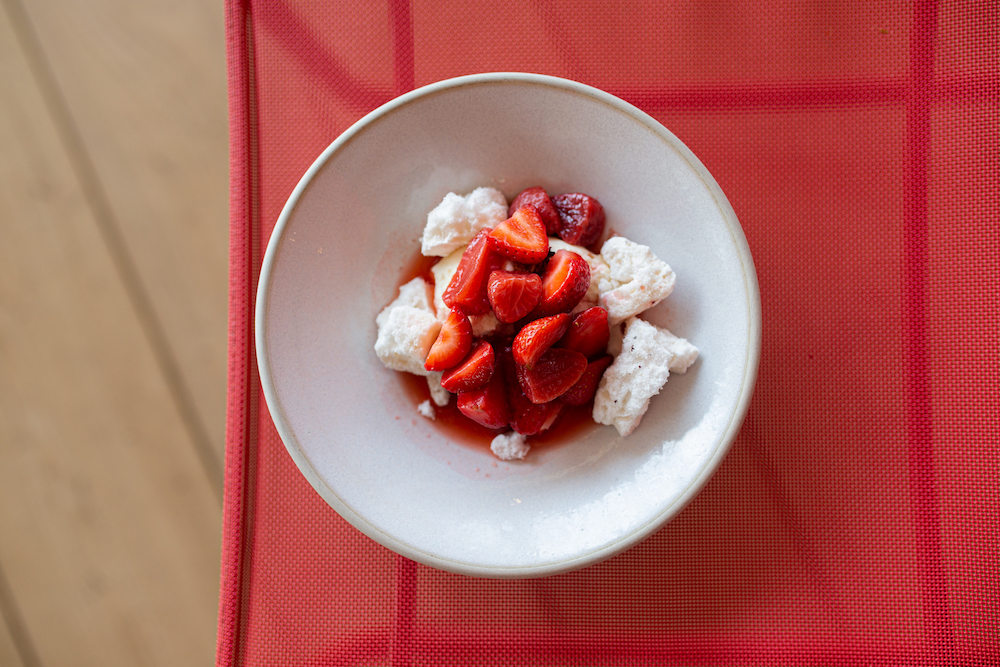 Try this unbelievably simple Newty twist on the classic summer pudding, making the most of abundant Somerset strawberries.
All signs are pointing to summer here on the estate. The Stable Yard is dressed to impress, bedecked with sweetly scented roses in bloom, and new display beds filled with midnight blue and scarlet salvias, and a dusting of Senecio cineraria 'Silver Cloud', are going into the Victorian Fragrance Garden. Over on the farm, we're haymaking and baling while the sun shines, and shearing the sheep, who will be grateful for their warm weather trim.
In the bushes and hedgerows, plump strawberries are sun-warmed and at their sweetest and frothy elderflower heads hang heavily, ready to be harvested. Our chefs, bakers and cocktail makers are spotlighting the spoils in quintessential summer puddings, indulgent treats and elegant libations – as long as the tantalisingly brief season lasts.
One such dish is the Garden Café's super simple recipe for Bruton Mess. "It's less a recipe and more an assembly of delicious, seasonal things," says Sous Chef, Beth. "I think the joy in this dessert comes from its simplicity and familiarity – we all know what a 'mess' type pud looks like – but we've tweaked it with the addition of Mourvèdre rosé poached strawberries, a slight touch of acidity and saltiness in the cream from the addition of the yoghurt, and the floral meringue." With the rose and cardamom meringue available from the Bakery, you can whip this one up in a matter of minutes.
Shop the ingredients from our online shop
Recipe: Bruton Mess
Serves 6
Ingredients:
350ml Babylonstoren Mourvèdre Rosé
350g caster sugar
1 punnet Somerset strawberries
300ml double cream
150g thick Greek yoghurt
A pinch of salt
1 tablespoon icing sugar
1 rose and cardamom meringue (purchased online)
Method:
To poach the strawberries:
Heat the rosé and sugar until the sugar just dissolves (you don't want it to boil). Add the hulled and halved strawberries, remove from the heat immediately and set aside to cool completely.
For the whipped yoghurt:
In a large bowl, whip the cream, icing sugar and yoghurt until thickened and smooth.
To assemble:
Spoon the whipped yoghurt into six bowls, crumble over the meringue then top with the strawberries and plenty of their syrup.
For this and more tempting seasonal dishes, book into the Garden Café to try our themed set menu before the end of June.