A New Leaf
January 11th, 2023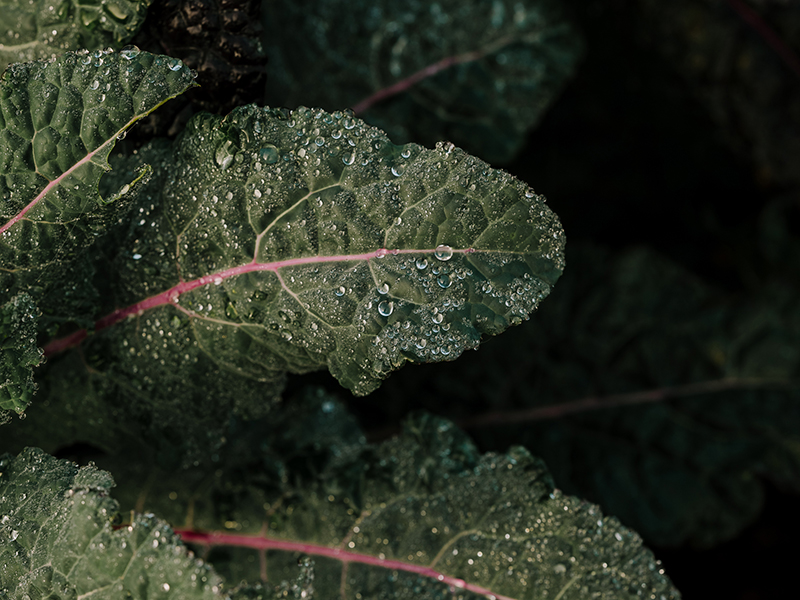 "The beginning is always today." – Mary Shelley
In the depths of darkest winter, one of the easiest ways to bring light and renewed vigour is to step out into the garden during these first few weeks of the year. Sabres of sunlight, snowdrops poking through cold earth and the fresh verdant sight of kale, cabbage and broccoli in the Kitchen Garden are all joyful signs that nature is working its magic and spring will come.
Making up the mainstay of our January eating, beautiful brassicas full of goodness from the earth provide us with wholesome, nourishing dishes across the estate. From Romanesco's hypnotic fractal patterns to the purple-tinged leaves of January King, they're as cheering to look at in the vegetable beds as they are on our plates.
A month for self-love and taking it slow, we're tapping into the natural energy and vitality of our green and pleasant land with creative workshops inspired by plants and encouraging some all-important spa time to recharge and fill your cup. Let's start 2023 as we mean to go on. . .
What's On this January
This month our gardeners will be sharing their top tips for terrarium making, while our chefs create vibrant, energising dishes, and our expert team hosts an inspiring line-up of events, tours, talks and workshops to ignite the senses. Now's the time to try something new.
Botanical Printmaking
4, 11 January 2023, 10am – 2pm / £125
Local artist Liz Clayton walks you through the tropical plants of the Winter Garden to inspire a few hours creating personalised prints. Incorporating flair, imagination, mindfulness and the sheer pleasure of adorning your home with something handmade.
Terrarium Workshop
25 January & 9 February, 10am / £125
Try your hand at the art of planting your own micro-garden in beautiful glass bottles under the expert tutelage of our Nursery Team. You'll learn about the species to use and gain the skills to create your own miniature Eden to take home. Includes lunch at the Garden Café.
Dawn Walk: Winter Wonderland
5, 26 January, 8am / £45
Get a magical morning view of our less travelled ancient woodland in this guided walk with Head of Programmes, Arthur Cole. Take in the painterly landscape in the cool winter light before the estate awakes, culminating in a warming breakfast at the Garden Café.
New Offerings
Lunch at the Garden Café has now changed from a set menu to individual dishes you can pick and choose, served every day from 12pm-2.30pm. There's also a new 'Something Smaller' menu of light bites, sweets, sharing boards and even whole-baked Bruton Brie with brassica stems, served 12-4pm.
January Greens
Our growers are currently harvesting myriad cruciferous vegetables to keep you feeling bright eyed and at your energetic best. You can shop a wealth of healthy goodness from organic juices to glorious grains, gut-balancing kombucha, probiotic apple cider vinegar and more over on our website.