Recipe: Spice Roasted Cauliflower
April 26th, 2021
"Whenever we have cauliflowers, I love to put this dish on the menu at the Garden Café. Whole roasted cauliflowers are as delicious as any butcher's cut." – Estate Head Chef, Alan Stewart.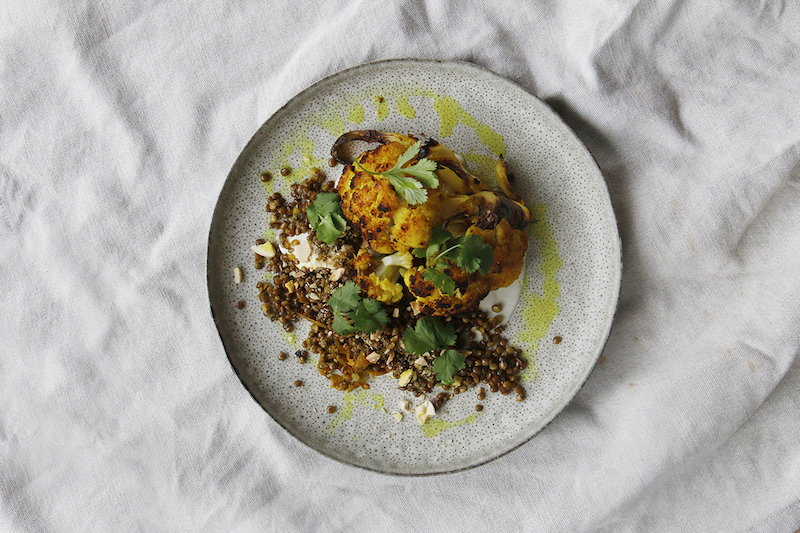 Created by Estate Head Chef Alan and served in the Garden Café, Spice Roasted Cauliflower is one of our best loved dishes. Entirely vegan and using every part of the plant, it's a fine example of avoiding waste, and turning a humble vegetable into a hero.
1 x cauliflower
150ml vegetable oil
3g fenugreek seeds
3g cumin seeds
1g flaky or rock salt
3g turmeric
Trim the cauliflower so that only a very few leaves remain around the outside.
Score the root with a cross.
Submerge in a large pan of water and bring the pan to a gentle simmer.
Simmer the cauliflower for 2 mins, remove pan from the heat and allow to cool.
Drain well and leave in the colander to dry.
Meanwhile, preheat the oven to 220c.
In a dry pan, gently toast the fenugreek and cumin seeds until they start to pop.
Place in a pestle and mortar and crush gently, then add the salt and turmeric and mix well.
Add your spice mix to the oil in a small pan, heating gently so it mixes well.
Rub the warm oil all over the cauliflower.
Place in the oven and cook for 15 mins or until well cooked and some bits have started to brown. You can even blacken it a little for extra flavour.
Serve with a lentil salad and coriander mixed into almond yoghurt.