Fleeting Beauty
May 10th, 2021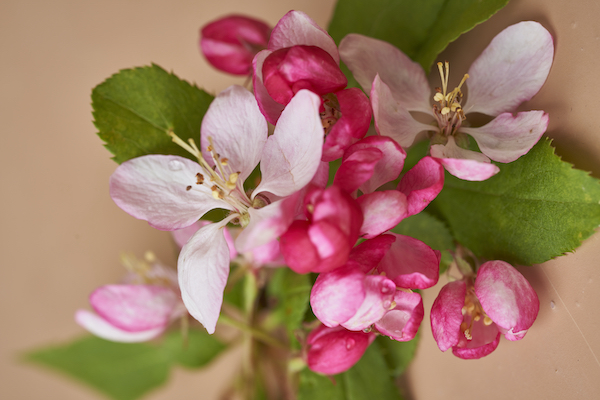 As well as its ecological significance, the emergence of blossom in the spring holds an emotional resonance among many cultures. A sign of life and hope after the winter months. A cheering signal of abundant harvests. A fleeting moment of beauty.
At our Estate in Somerset, there is amor amongst the apple blossoms during the month of May, as candy-hued nuptials take place between the bees and their beloveds. We have more than 500 apple trees across the Parabola and orchards, as well as pear, cherry and crab apple, and hawthorn and blackthorn in the hedgerows – all coming into their own, as they have done for centuries.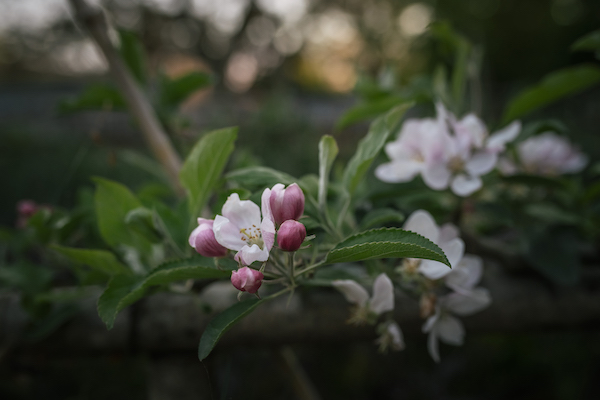 Villages in England would traditionally celebrate the emergence of blossom with a May Day celebration. Pagan in origin, it involves the gathering of wildflowers, dancing around the Maypole, and crowning a village maiden as May Queen with a floral coronet. 
The crab apple, an uncommon native to England, was cherished by the druids for hosting magical mistletoe, its blossom marking an important moment of celebration. In rural Somerset, hedgerows and byways would be bursting with the blossom of cultivated apples, sprouted from discarded cores. Producing trees were venerated by the community, awoken at Wassail, the fruit used to make vinegar and pulp used to make Pomatum.
Pear blossoms are also loaded with history and intent, from poetry to military campaigns. In Victorian times, sending pear blossom was a symbol of lasting friendship. In 1899, in Worcestershire – home to the rare black pear – Lady Dudley gave volunteers fighting in the Boer War in South Africa a silk pear blossom to pin to their hat, as a symbol of their support at home.
Elsewhere in the world, cherry blossom – sakura – holds a great deal of significance in Japanese culture. Its arrival has been celebrated for hundreds of years; a reminder that life is both startlingly beautiful and tragically short. That we cannot control our lives any more than the weather controls how long the blossom can withstand the storm.
The custom of hanami centres around these much-loved trees, famed throughout the world, with visitors flocking in their thousands to not only enjoy the timely displays, but ponder the unstable nature of our own mortality.
Join us in the gardens this May to ponder around the Parabola at our collection of apple trees, all in bloom and abuzz with the birds and the bees.