Recipe: Apple & Cyder Crumble Cake
October 11th, 2021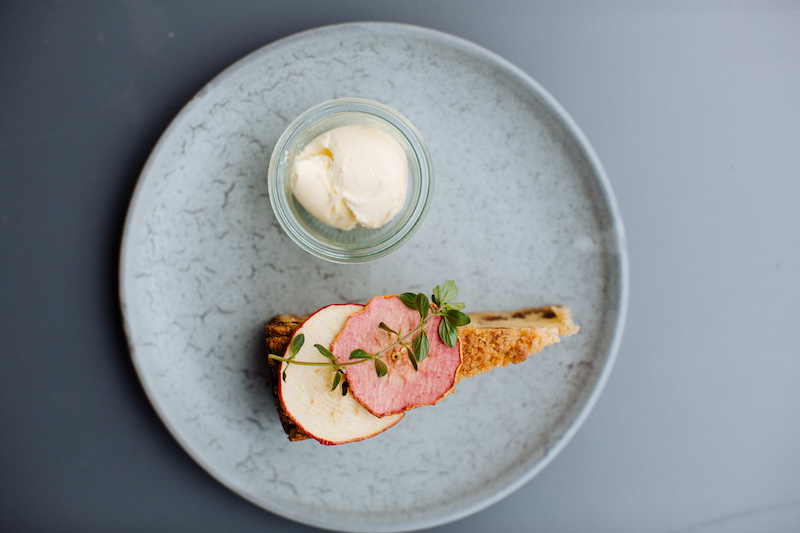 "This recipe is very special to me for a couple of reasons. It was one of the first recipes I created at The Newt and it has been served in various venues across the estate ever since, including our online delivery. It is influenced by my mum's apple cyder cake, with my (German) sister-in-law's sugary streusel topping – a true family collaboration." – Alan Stewart, Estate Head Chef.
The Newt Apple & Cyder Crumble Cake
Ingredients:
175g unsalted butter
175 light brown sugar
3 medium eggs
250g self-raising flour
100ml The Newt cyder
500g cooking apples
200g raisins
Streusel topping
130g cold butter
100g flour
100g ground almonds
1tsp ground cinnamon
130g brown granulated sugar
Method:
Peel and dice the apples in roughly 1cm chunks. Add to a bowl with the raisins and pour over the cyder. Leave to marinate.
Cream together the butter and sugar. Beat in the eggs then add flour and stir in the apple, cyder and raisin mix. Pour into a lined round cake tin.
To make the streusel topping, cube the cold butter and rub together with the dry ingredients.
Sprinkle this over the cake mixture and bake the whole thing at 160°C for approximately 45 minutes until cooked.