Farmyard Kitchen Recipe: Burnt Leek
November 20th, 2023
Lend sweetness to your supper with a beautiful zero waste burnt leek recipe from the chefs at Farmyard Kitchen.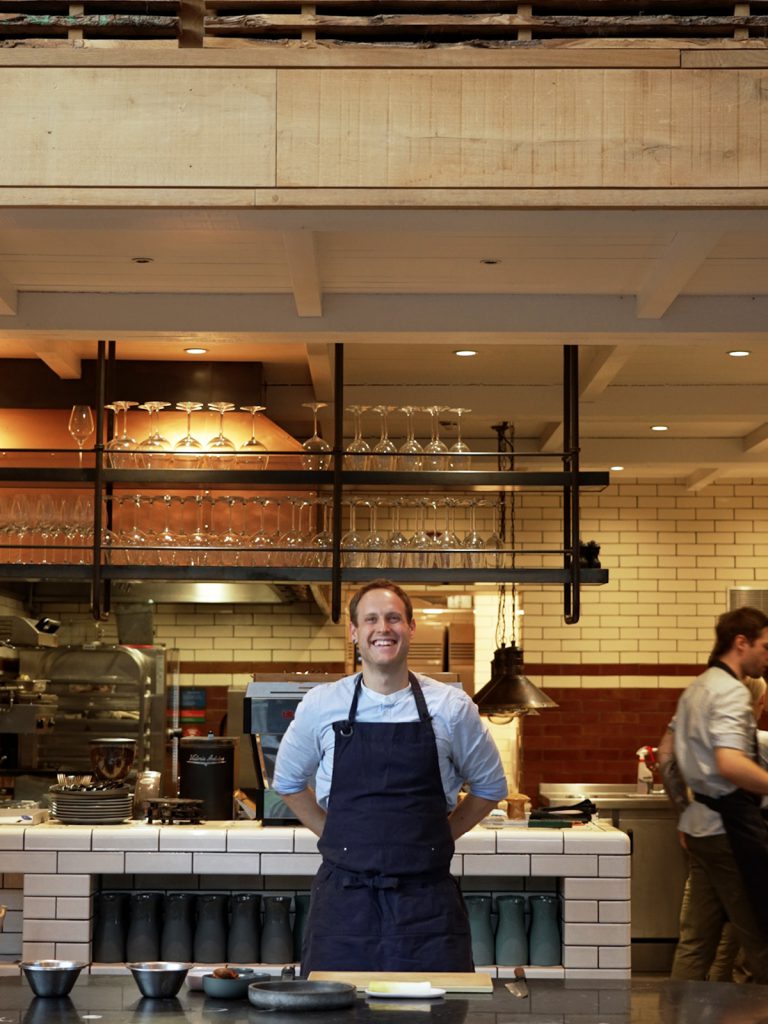 It's all change down on the farm, with an indulgent new tasting experience designed by Farmyard Kitchen Head Chef, Allan Altschtul. The five-course sharing style menu features nine dishes showcasing the best of super local ingredients grown, reared or foraged on the estate. There's Brussels sprouts with chestnuts, leaves from the garden and our own burnt leeks served with the freshest day boat fish from the south west coast.
"Of course, we're going to bring back some Farmyard classics like duck fat potatoes, and artichokes with smoked mayo, which are amazing," teases Allan, "but we want to make it a little bit more wintery and festive too, so we're introducing local pheasant. We're using the crown of pheasant to roast it in the wood-fired oven, and then with the legs, we're adding chicken and tarragon to make a terrine to serve as a starter.
"The experience is our way of bringing people together during this festive period," he enthuses. "It's a warm up to the big day, bringing a taste of Christmas to the table; but we won't burst the bubble by serving pigs in blankets."
If you've never been to the Farmyard, "it is always about sharing," says Allan, "not just the food, but the people that you share it with and the time that you spend together. It's about that moment in time: it's always nice and relaxed, you can order a bottle of wine or have a wine flight and just enjoy it with us."
While Allan's not keen on singling out individual dishes from the menu, as "the favourite thing for me is that everything works really well together," he does concede that "the leek dish created by sous chef James Wilson is always a success. We're all very into the leek…"
If you're making this dish at home, pair the burnt leek with a classic roast chicken, beef or a beautiful piece of fish, as we would serve in Farmyard Kitchen.
Burnt Leek with Hazelnuts
Serves 1-2 as a side dish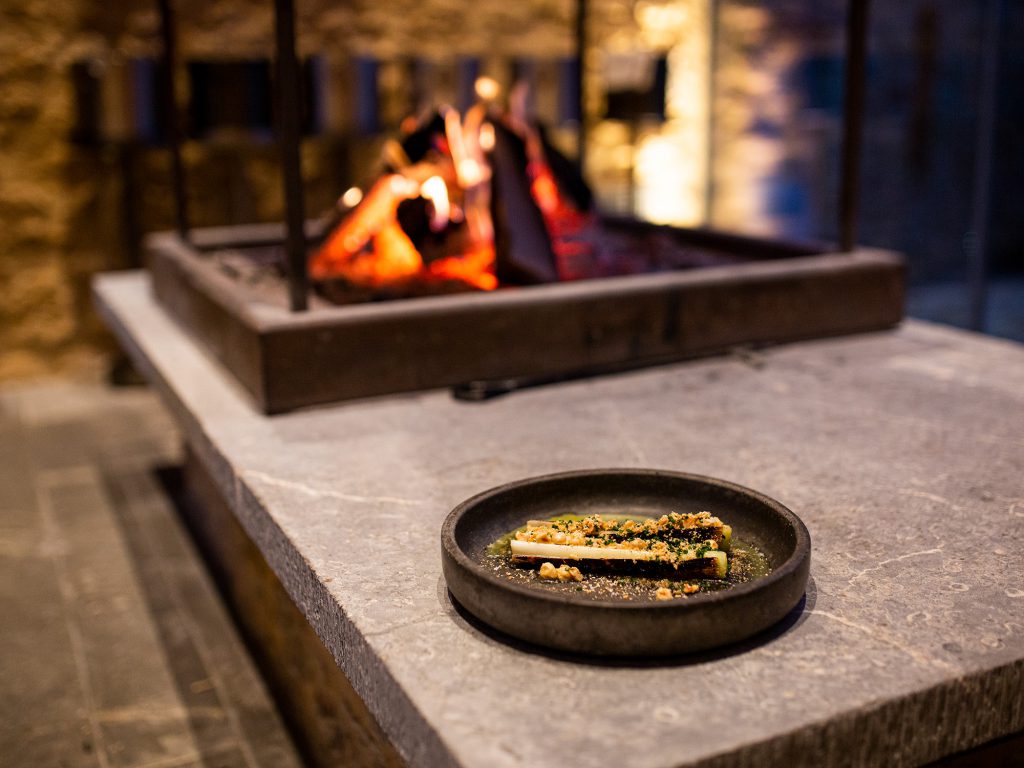 Ingredients:
1 large leek
50g hazelnuts
100g butter
15ml sherry vinegar
2-3g grating smoked cod's roe (or 2-3 anchovy fillets)
A pinch of salt to taste
20g chopped chives
For the leek mayo –
200g chopped leek top
300ml vegetable oil
10g salt
2 egg yolks
2 tbsp sherry vinegar
Method:
Cut the leek just below the top of the white part and blanch by boiling in water or steaming until soft in the middle, around 5-6 minutes. Let it cool and reserve.
For the leek mayo, blend chopped leek tops with the vegetable oil and salt until hot before cooling and straining to make your leek oil.
Whisk the egg yolks with 2 tablespoons of sherry vinegar and some salt and add the leek oil in a steady stream until you reach your desired mayonnaise consistency. Adjust seasoning to taste and reserve.
For the hazelnuts in butter, lightly brown the butter in a pan. Toast and roughly chop the hazelnuts before adding to the butter along with the chopped chives. Season with sherry vinegar to taste.
Roast or pan fry the leek until burnt on the outside, cut it in half and lay open on a plate. Season with salt, spoon over the mayo and hazelnuts in butter, top with more chives and grate the cod roe or place a couple of anchovy fillets on top. Here at Farmyard, we also like to garnish this dish with some edible flowers from our greenhouse. Enjoy!
To try this and more tempting seasonal dishes, book a table for Farmyard Kitchen to enjoy the Festive Farmyard Experience from 1 December.