Recipe: The Perfect Egg Sandwich
June 14th, 2021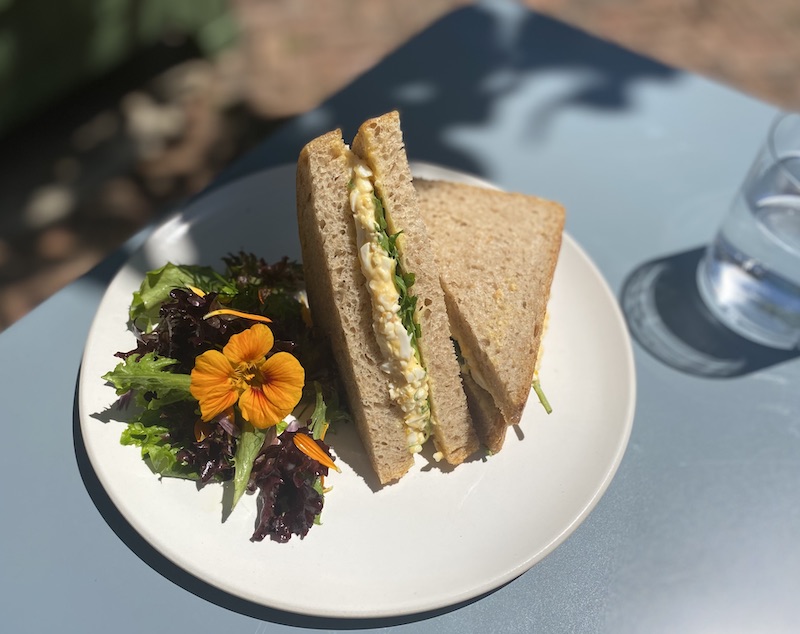 "When it comes to picnics, you can't really beat the classics. On a warm day, a simple egg sandwich and ice cold ginger beer definitely hits the spot. As with most simple dishes, the key is great ingredients – our eggs come from the Slow Farming Company in Castle Cary, who have been farming for five generations. Their hens are kept on pasture and lay the most beautiful pastel-coloured eggs." – Ben Champkin, Head Chef of The Botanical Rooms.
For the mayonnaise
2 x Slow Farming Co. eggs (you'll only need the yolk – save the whites for a meringue)
250ml Rapeseed oil
1tsp Dijon mustard
15ml Cabernet Sauvignon vinegar
For the filling
3 x Slow Farming Co. eggs
Dorset sea salt and cracked black pepper
Apple waste sourdough
Firstly, cook the eggs:
In a pan with a rolling boil, place your whole eggs in and set a timer for 6 minutes.
Now prepare a bowl of cold water, ideally with a little ice.
Once the 6 minutes have passed, remove the eggs with a slotted spoon and place in the cool water. This will stop the cooking process and chill the egg ready for mixing later.
Secondly, make the mayonnaise:
In a large mixing bowl, whisk together the egg yolks, mustard and vinegar until the mixture becomes slightly thickened.
Start to rain in the rapeseed oil very gradually, whilst whisking the mixture.
Don't add any more oil until the mix has become homogenous and slightly thickened.
One the mixture has been emulsified fully, season with a little salt and pepper to taste.
Once finished, it's time to combine the two.
When fully cool, peel the eggs carefully and use a box grater to grate the egg into fine pieces (alternatively, chop with a knife).
Take a mixing bowl and add the egg, followed by mixing in just enough mayonnaise to create the right consistency required.
Finish with a little more seasoning if required, and place to one side.
Slice the sourdough, butter both sides and fill with the egg mayonnaise.
Finish with a peppery leaf such as rocket or watercress, or my favourite at this time of year, nasturtium leaves.